If many people go to Google every day to search (16 million per day in France alone!), YouTube is not to be ignored: it is the 2nd largest search engine in the world! And that's why it's a good idea to try to work on your YouTube SEO if you have cool multimedia content to share :).
Contents
Here is a detailed article on the important criteria to rank a video high on YouTube. And we will see that we are not so far from the classic SEO approach :).
I take the liberty of drawing inspiration from the excellent original article by Brian Dean of Backlinko, who very kindly allowed me to do so.
4 main parts to the program :
Find the right keywords for your videos.
Make amazing videos to generate engagement, which is a major criteria for YouTube.
Add your videos on YouTube following SEO guidelines: a good title, description, etc...
Generate views! (spread the word)
Step 1: Find "keywords" to videos
What are we talking about? :) What is a "video keyword"?
Nothing could be simpler, just search for keywords in our beloved classic Google, and see if there are any "YouTube" results on the 1st page.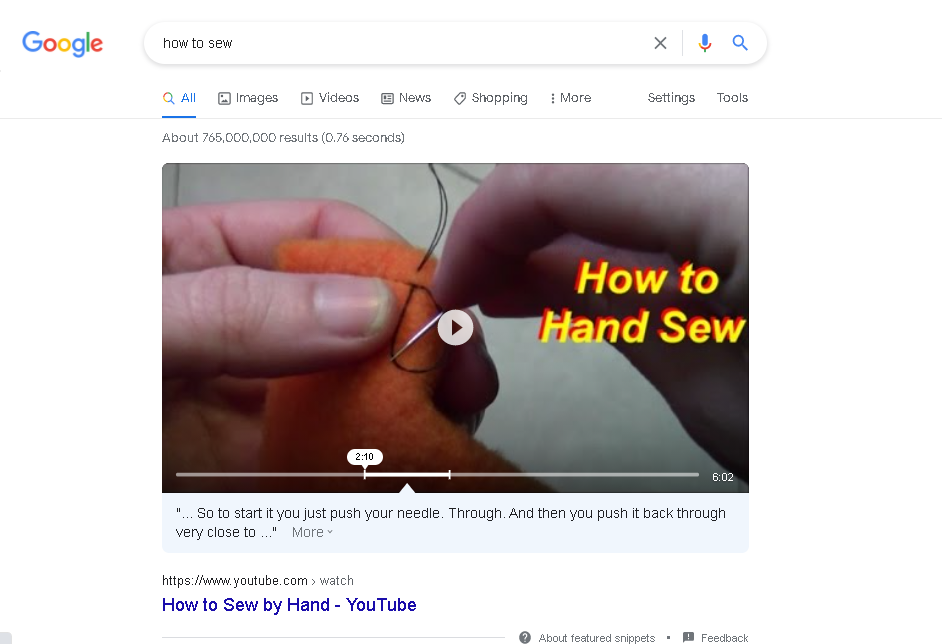 Here we see that the first two organic results are videos ==> there is room for a video on this keyword! In fact, it's what we call a "video keyword".
In general, Google returns video results for this kind of keywords:
"How-to" & tutorials: "How to create your website", "Learn to sew", etc.
Reviews: "The best ...", "What you need to know ... "
Sports or humorous videos: silly cat videos for example!
PS: Don't judge me for knitting! Thank you. :)
Why is it important for your Youtube referencing?
If you optimize your video around a keyword that doesn't have a video result in Google, then you condemn yourself to just having visits from the YouTube search. That's not bad, of course, but why not go wide? :)
And so most importantly, we get that: before even producing a video, much like before creating a page or a blog post, we should ask the question: "what user query will this video answer?". If it doesn't answer anything, uh, chances are your video won't generate thousands of views :( .
Ok, so how do you find these keywords?
Search for keywords just like any other search on Google. If you want some ideas, read this article on keyword research.
Check that there are "video keywords", see above. What, you didn't read it? :)
Check that there is search volume on these keywords, and then, go to the Google Keyword Planner. While you're at it, even for a niche, try to find a keyword with at least 300 monthly searches. It will probably be a bit competitive, but:

You have to be ambitious, right? :)
For now it's easier to rank well on YouTube than on Google, so go go go :)
If there is a decent volume of visits on Google Search, there is a chance that there will be a nice volume on YouTube as well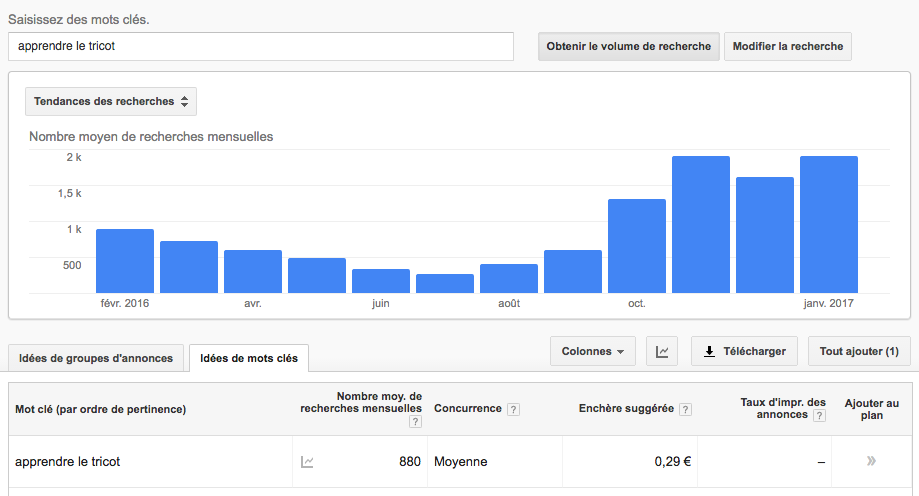 Do you have your main keyword for your video? Shall we talk about the video itself? :)
Step 2: Create your incredible video
Goal: quality
Like always, if you really want it to work, you have to give yourself the means to make a quality video. I continue my parallel with a blog article: it has to be of quality, ideally it has to deal with a subject in depth (>1500 words), in short, no miracle, it will work if there is work behind it.
For the video it's the same thing: ideally, you need professional equipment, an editor, a director...in short, a communication agency. Let's forget about it and stay pragmatic? :)
The idea is that your video should be of sufficient quality in terms of production and content to be viewed. It's as simple as that, and for a very simple reason: the engagement that users will have with your video is the most important ranking criteria!
In other words, if your video is perfect from an SEO point of view, but everyone just views it for 5 seconds, nobody likes or shares it, Google will understand this, and as a proof, your video will never rank high. It's exactly the same as in traditional SEO: if your article is 100% perfect from a technical point of view, but Google realizes that:
the time spent on your article is very low,
your article is very little or not shared at all,
that there are no comments,
etc...
then your article has no chance to rank well.
In fact, it's even worse: Google can use backlinks for example to judge the quality of your content. But YouTube doesn't have this luxury: the judge of peace is how people will interact with your video.
Okay, got it, how do I engage them then? And what is engagement?
Here are the important metrics:
the time spent on your video do people stay on it for a long time, or do they leave immediately? We're talking about retention, here, i.e. what counts is the percentage of the video that is watched. For example, for a one-minute video:

if people have spent 15 seconds, you have 25% retention.
if they spent 45s, you have 75% retention, and that's better :)
This data is available directly from YouTube analytics:

The video is 1min14s long, and watched on average 52 seconds, which is a 71% retention rate. It's not incredible, I agree, but "it's ok" :).
comments on your video : yes, just like a blog post, if people talk to you, it means you're worth it :)
Let's take the example of a video on "how to knit", because I am definitely passionate about knitting :
well there are 163 comments, it's already not bad, and that's one of the reasons why this video is in 1st position: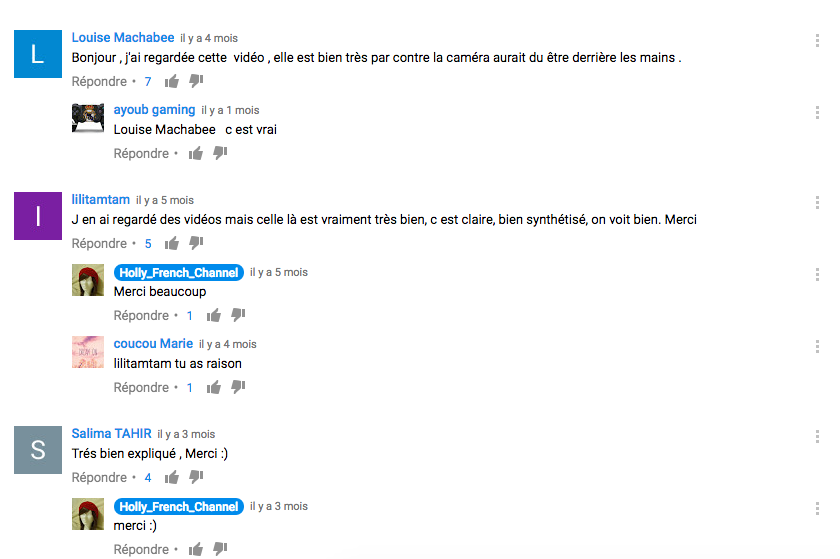 The argument behind it is very simple: if people take the time to comment, it means that the content is interesting (or that the video starts a debate...like who is the best soccer team in France, Paris or OM), and that they must have watched it, at least a little bit: and therefore YouTube (and Google, in fact) likes it.
subscriptions to your channel after having seen the video: it's a wonderful signal! A bit like on your blog, forgive me for insisting, but if someone accepts your call-to-actions to subscribe to the newsletter, when they are obviously already receiving too many emails, it's because "it's really worth it", and YouTube understands this very well. -> the advice is very simple: invite people to subscribe to your YouTube channel!

Social media sharing: Same as your blog posts...your video is meant to be seen right? :)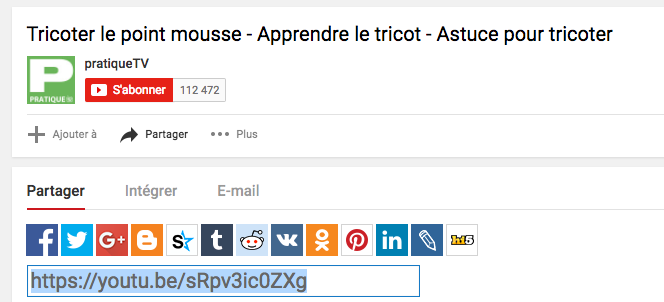 Favorite videos / Watch list : the number of people who have added your video to their watch list obviously counts a lot...not all of them have time to see your amazing content immediately, but if they make a note to come back, that's great :)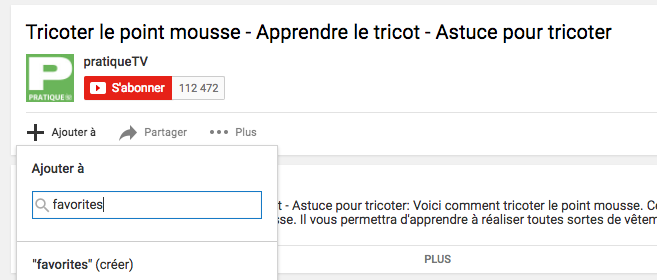 Likes : Need an explanation? :) The more, the better ! :)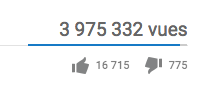 And finally, although it's quick to see from your video itself, YouTube provides a summary of the analytics data. Either from your channel or actually directly from the page, even if the video is not yours: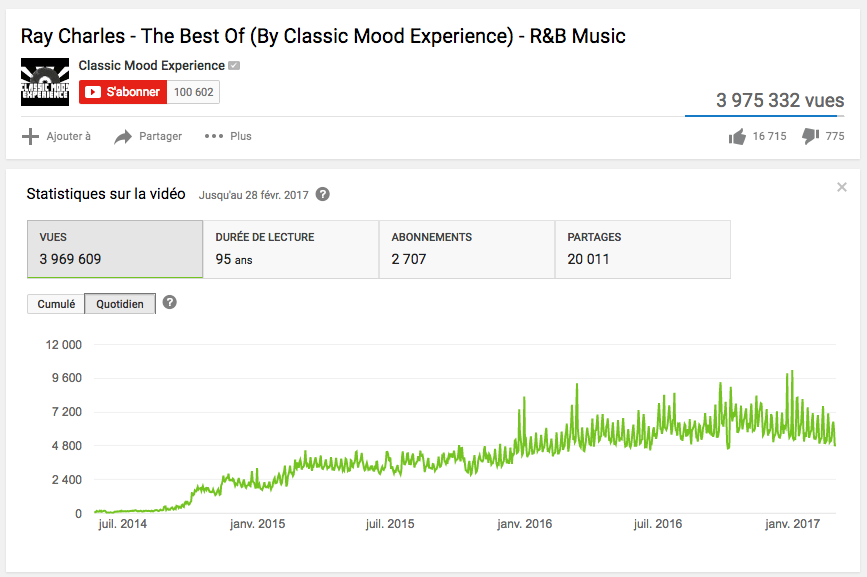 We find the information mentioned above: number of views, viewing time (95 years! Who says better?), subscriptions, shares. It can be useful to see how your competitors' videos are doing, right? Ouuups, you shouldn't have said that.
Shall we stop here? Come on, no, one last piece of advice...Remember how long your blog posts were, how "content is king?" Well, it's the same for videos.
Length of your videos: at least 5 minutes!
I'm back to my old favs: this time not knitting, but sewing.
On "do a cross-stitch", the first 3 results are 6, 8 and 12 minutes.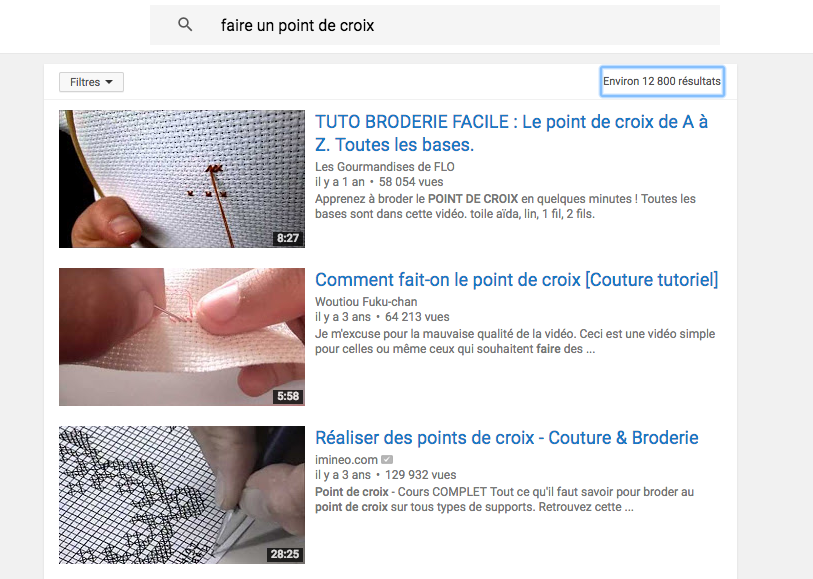 and if you want tutorials on how WordPress works, then it's party time, bring the popcorn and go: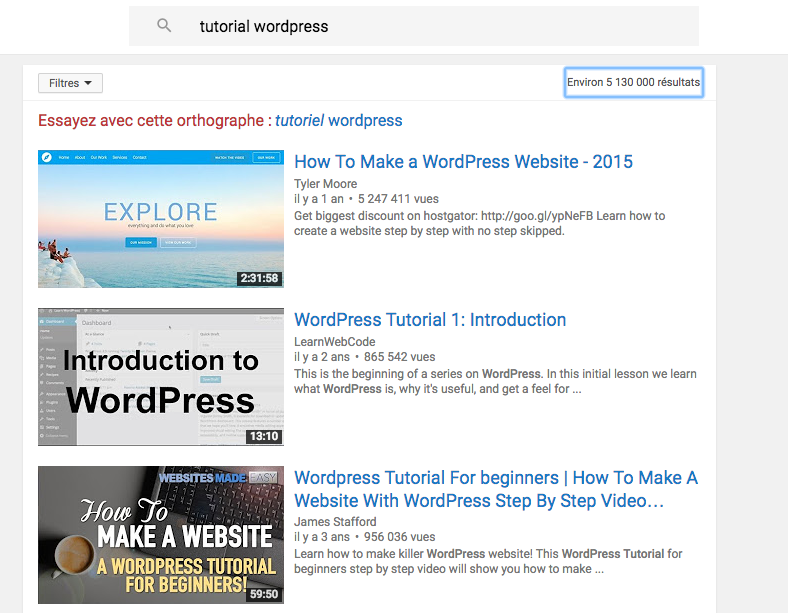 2h31 for the 1st result, 1h for the 3rd...to believe that the 2nd one is a joke, 13 min..well, it's an "introduction", so. :).
So basically, if your video can be long, don't be afraid, it's great news. If it's worth it, people will go to the end, don't worry!
So, congratulations, you have your main keyword for your video, your incredible video ready: shall we put it on YouTube?
Step 3: Upload the video to YouTube with SEO optimizations
Here are some tips to help YouTube understand that the best result for your main keyword, is of course your incredible video :).
Video name
Remember, we have a main keyword for our video? Okay, well, poof, we're gonna include it in the name of our video.
So if I make a little study to explain why SmartKeyword is a great tool to find the best keywords for your website, I will name the video like this probably: "Keyword tool for SEO"

It is debatable whether this is an important ranking factor or not. In any case, it can't hurt, can it?
Title of the video
Very important ! :)
The title of your video must have at least 5 words, i.e. your main keyword, and a little teaser to make users want to watch it right away! A little shout out to you: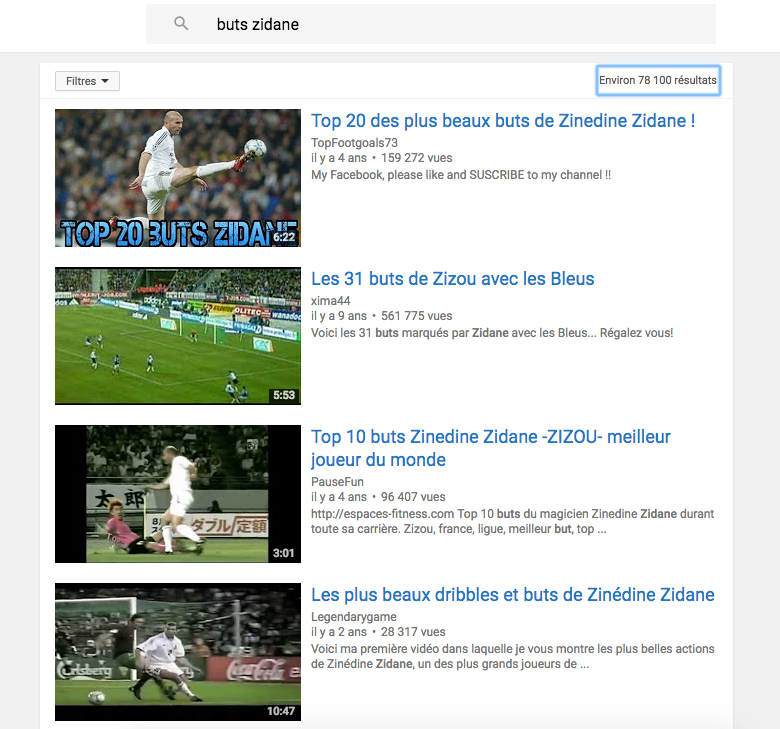 The main keyword of these videos was probably just "Zidane" or "Zidane goal", but our friends give us envy with:
"Top 20 of... »
"The 31... »
"The most beautiful... »
Do not hesitate!
A little advice, however: as for classic SEO, put your keyword at the beginning of the title tag, it helps Google (oops sorry, YouTube).
On Zizou for example, we could have put: "Zidane: Exceptional compilation of his 30 most beautiful goals".
Description
The description of your videos is...veeery important! Google and YouTube are infinitely smart, there is no doubt about it. But not yet smart enough to listen to your videos :).
So help them, make them understand what your video is about.
4 easy tips for your video description :
Hop, a link to your site, it can't hurt right? After all, your video is like a blog post
Include your main keyword in the first sentence of the description
Have a description of at least 250 words.
Put your keyword 3 or 4 times in this content. Alert, no more, keyword stuffing, it wears off quickly and does not pay off. But a few...with moderation.
With this, you'll have a video that helps Google and YouTube understand what it's about. Be nice to them, they need help ;).
Let's go, honor to Caesar, since this article is inspired by Backlinko, here is an example of one of Brian Dean's video description: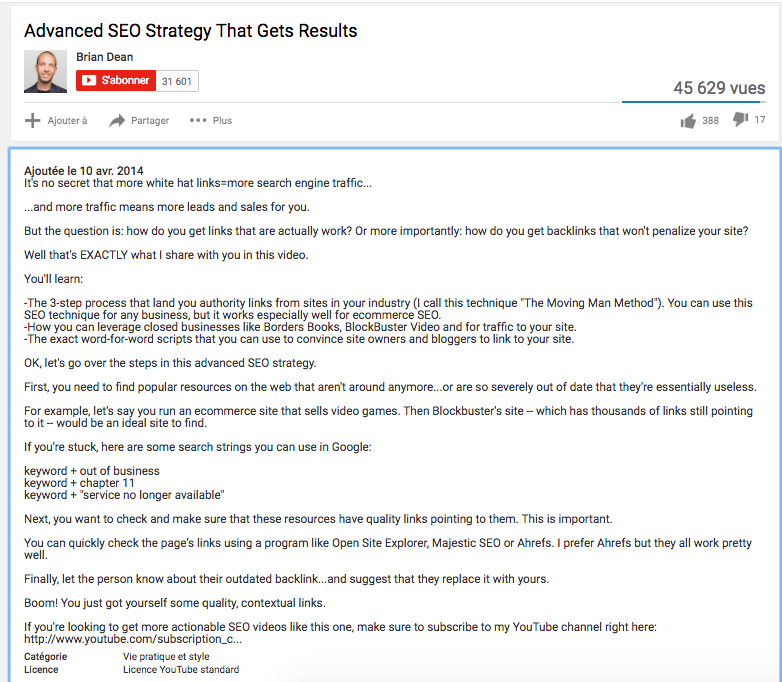 Well then, we see that not only the text is optimized for engines, but also, and this is the objective (anyway!) for us future visitors! It makes you want to look, doesn't it? :)
The tags
Tags...well, it's not a very important ranking criterion, but it's going to help anyway in an indirect way: It's going to help Google and YouTube rank your video, and thus make them feature your video in "suggested videos".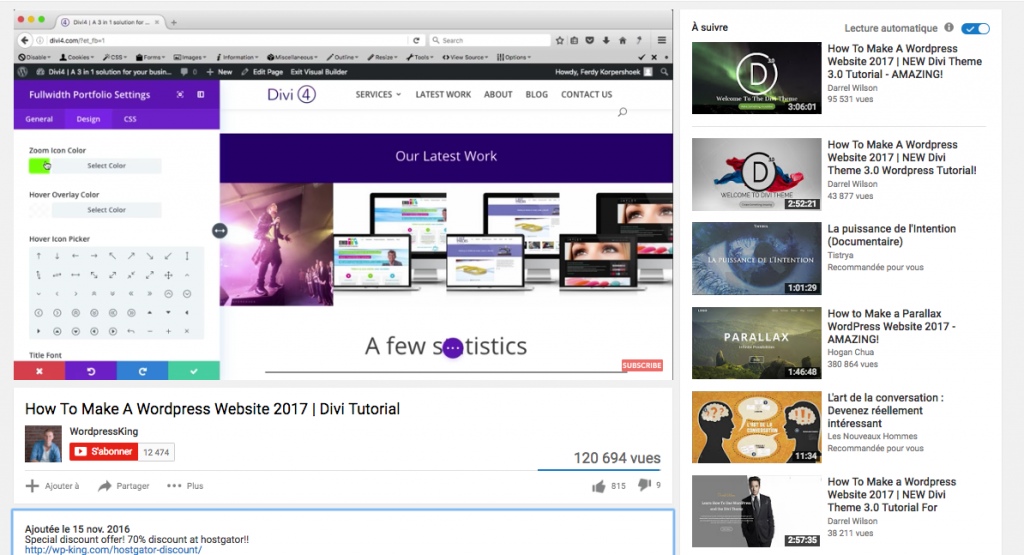 So you can put 5 to 10 tags for your video, around your main keyword, and take advantage of this to try to widen your reach a little :). Isn't it nice that someone watching another video sees your video on the right?
So, the checklist to know if we are all good?
file name?
title?
description?
tags?
You publish the video and off you go! Let's go get some views!
Who said that for a blog post, you should spend 30% of the time writing it, 70% sharing it?
I have no idea. But he must be right. If you've done all this, it's for sharing it now!
Let's go, let's save!

PS: I'd like to take this opportunity to give you a last tip that has nothing to do with SEO: define a nice main image (a 'thumbnail') for your video! It will increase your click-through rate if this image is appealing!
Step 4: Let's go get some views!
Why not?
We have seen very heavily in the 2nd part the importance of signals coming from viewers: likes, comments, etc..
And as usual, not everyone, even if your video is amazing, is going to comment or like it either (for example, I didn't like Zidane's videos, and yet I saw them all. So it took me a long time to write this article).
The conclusion: you need a lot of views! At worst, even if there is little engagement, we saw that the time spent was an important criterion, so go go go :).
How to do it?
For this, it's quite the same as for your blog posts, you have to mention them where you think there is an audience for it. An advantage for a YouTube link vs. a link to your blog: you will be less considered as a spammer :). After all, your sole purpose is to be of service by providing quality content to people who ask for it, right?
So, for SEO, you might want to share your article / video on www.secrets2moteurs.com, because the audience is particularly suitable, but if it's pure marketing, you might want to contact Frédéric Canevet from conseilsmarketing.com, and if it's knitting, the international knitting federation, or who knows, a Linkedin group of knitting enthusiasts?
In short, your audience, your social networks, you know, it depends on your activity, I can't help you much more :(.
Ah, but what the heck: you can try to google your main keyword in "questions/answers" mode, to find articles on Quora, Yahoo! and various forums on the subject of your video :).
Why target well by the way ? Because be careful not to be counter-productive, as with classic SEO: if Google (yikes, YouTube, I'm going to get there), realizes that everyone spends 3 seconds on your video and leaves, it's not going to like it at all...And, to look on the bright side: on the contrary, if you've targeted the right audience, and your amazing video is just amazing, you'll have a great retention, and we've seen that it's a great "ranking factor".
3 last little tips before saying goodbye
Email signature
What do you do most during the day? If you're like me, unfortunately, it's reading or sending emails.
Well, the good thing is that apart from promotional emails or spam, you usually read most emails... So why not include your latest video in your emails?

Or, an example of a signature to link to your own content (which can be a blog article, news, etc..): I take the example of Guilhem Bertholet from the Invox agency, the popes of Content Marketing & Marketing automation!

 Your videos have a right to live in your blog posts
Do you write content, for yourself or for partners? Ohh...there must be a few times when your video would be most appropriate, right? Plus, people love it, right?
You remember that for on-page SEO, we always tell you that you need multimedia content, images, ideally videos, to increase quality, retention, and sharing on social networks...
Conclusion
Did we get it all figured out?
To sum up:
Find the right keywords for your videos
Make amazing videos to generate engagement, which is a major criteria for YouTube
Add your videos to YouTube nicely: a good title, description, etc...
Generate views! (spread the word)

   Article written by
Louis Chevant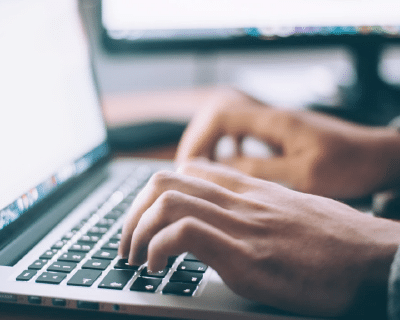 The complete guide on the referencing of e-commerce sites
The 6 key steps to follow to correctly optimize your e-commerce site for a good natural referencing.